Gauges
More Information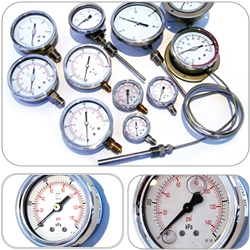 pressure & temperature utility & process gauges








Pressure & temperature gauges are ideally suited to most industrial applications where high accuracy and durability is required.
We offer a range of gauges with brass/ bronze internals, all stainless steel internals, or monel tube and socket with stainless steel movement.
View products!
Browse our catalogues & add products of interest to your "enquiry list" or
contact us
to discuss your requirements.
Pressure Gauges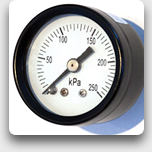 >>
Temperature Gauges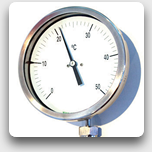 >>
Applications for temperature and pressure gauges
Gauges are commonly used in food & beverage, pharmaceutical, chemical & petrochemical industries, and in any case where pumps, compressors & turbines are in operation.
Our gauges are ideally suited for "aggressive" environments with gaseous and dry media. Most can be used in corrosive atmospheres & for general purpose applications.Certain gauges can be glycerine filled for measurements in areas with high levels of vibration and high dynamic pressure loads.
Gauges in severe service should be filled & snubbered to reduce bourdon tube stress. In order to minimise sensing element stress and to extend the life of the gauge, make use of internal snubber screws, pulsation dampeners, pressure snubbers, gauge savers or chemical diaphragm seals.
Bi-metal thermometers are typically used in heating, ventilation and air conditioning (HVAC), chemical and petroleum plants, pulp & paper, and food and beverage industries. We have the following configurations:
bottom,
rear &
every angle (swivel) entry
Nitrogen filled thermometers are the most widely specified instruments for measuring exhaust gas temperatures in diesel engines. The nitrogen filled system is both reliable & accurate as well as environmentally friendly.The instruments are protected against vibration using silicon oil to ensure maximum life under the most severe conditions.
Process Gauges: These gauges offer higher accuracy are mostly stainless steel
Utility Gauges: These gauges are cost-effective instruments of normal accuracy, mostly steel and brass materials used
The gauges listed here are mainly available ex stock, however we supply all types.
Contact us to discuss your requirements View standard products & get a quote
[feedback]