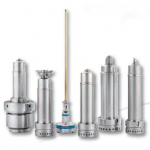 Thermoplay DN-Series: Hot Runner Nozzles
Stock Code:
SKU: product options
The 'DN' series has its sealing surface on the shaft of the nozzle.
This acts as a double seal; first the plastic is stopped physically by the sealing surface pressing up against the mould and the second is due to the sealed area being situated away from the heat, causing the molten plastic to freeze.

If the molten plastic should pass the seal there is another sealed are around the nozzle head, reducing the possibility of molten plastic flooding into the manifold cavity.
The DN series has a detachable tip manufactured from sintered metal.
Available nozzle diameters are 18, 22, 30 & 44mm.
All the tip types of the DN series of hotrunner nozzles are constructed with a special sintered steel, which has an optimal thermal conduction, and makes them much more resistant and not subject to wear, therefore they are suitable for the injection of all types of thermoplastic materials.
Also, the diameter of the channel inside the nozzle core has been increased, to improve the flow rate and for easier injection of large size parts. For easier application in moulds with many cavities it has been decided to increase the thickness of the D nozzle heads, to have more space for the outlet cables and as a consequence be able to increase the number of hot half injection points obtainable with D nozzles.
To complete the versions offered by the range, Thermoplay has added the new diameter 18, available in types 1, 1B and 2.
The standard lengths available have been tripled and they now reach 206 mm for diameters 18, 22 and 30, and 256 mm for diameter 44.
Leakproof: Double sealing for plastic material

Protective shell

One tip for all thermoplastics

Easy use and maintenance

Easy nozzle seat machining
To obtain nozzle datasheets, please follow the link below. Click on the nozzle diameter (below nozzle picture) for the type you are looking for. To obtain CAD, click on the nozzle length in the datasheet (top left). Please note that CAD is not available for all DN nozzles. CAD is available if the nozzle code is surrounded by a red box
http://www.thermoplay.it/Products/NewNozzles/ugelliNuoviEng.htm
Below is a list of tags that have been applied to this product. Clicking on a tag will display a list of all products with that tag applied.