Blower Heaters
More Information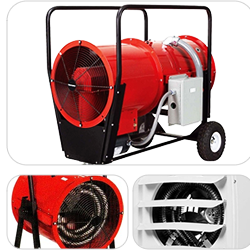 forced air heaters, industrial blower heaters
Blower Heaters are forced air systems in which air is used as the heat transfer medium.
An electric heating element creates the heat and a fan creates artificial air movement. This air movement allows for a more compact heater than the usual industrial convection heater since rapidly moving air removes the heat from the heater surface more quickly.

The heater forces air over very long distances and is usually the choice for heating larger areas.
View products!
Browse our catalogues for standard air heaters commonly requested & add products of interest to your "enquiry list" or
contact us
to discuss your requirements.
Hot air blowers
Blower Heaters require little maintenance and are considered a safer option to gas heaters as they do not produce on-site emissions (no poisoning by carbon monoxide) and there is no threat of explosion (if gas leaks). They are also fairly quiet in operation.
We manufacture custom designed air and gas heaters and also stock & supply various standard finished blower heaters.
Specify your custom forced air heating requirements
Air Blowers
Hot Air Tools - Custom solutions

Hot air can be successfully used in a wide variety of processes and techniques.
Depending on the temperature, static and dynamic pressure, air velocity and air volume requirements, suitable blowers and heaters can be combined and installed.
By use of various nozzles and reflectors, the hot air can be concentrated, spread or even sharply reduced without any significant loss of temperature.
We design & manufacture hot air tools to your requirements. Contact us.
Applications & Industries
Applications:

Drying
Activation
Tempering
Sterilizing
Preheating
Shrinking
Curing
Forming
Thermal deburring
Plastic welding
Heating
Cutting
Sealing

Industries:

Food & Beverage
Plastics & Packaging
Textile, Shoe & Leather
Pulp & Paper
Printing & Drying
Pharmaceutical & Medical
Chemical & Petrochemical
Engineering & Manufacturing
Blower Heaters