testo Saveris: Base Station
Stock Code:
SKU: UCT-CH05720120
The base is the heart of testo Saveris and can save 40,000 readings independent of the PC.
The system data and alarms are visible via the display of the Saveris base. Even without the PC running, the base issues an alarm by means of an LED if the limit value is exceeded, or optionally via SMS and via a relay output to which an alarm transmitter can be connected. In total, a base can incorporate 150 radio and Ethernet probes or 254 measurement channels
Memory
40,000 values per channel (total max. 10,160,000 values)
Dimensions
Approx. 225 x 150 x 49 mm
Weight
Approx. 1510 g
Protection Class
IP42
Material (housing)
Diecast Zinc / Plastic
Radio frequency
868 MHz
Power Supply
6.3 V DC mains unit; alternatively via 24 V AC/DC plug-in/screw terminals, power consumption < 4 W
Rechargable Battery
Li-ion battery (for data-backup and for emergency SMS with failure of the power supply)
Oper. Temp.
-10 to +50 °C
Storage Temp.
-40 to +85 °C
Display
graphical display, 4 control keys
Interfaces
USB, radio, ethernet
Connectable radio probes
Max. 15 can be directly connected via radio interface,
Max. 150 total via radio/router/converter/ethernet, max. 254 channels
Alarm Relay
max. 1 A, max 30 W, max 60/25 V DC/AC, NC or NO contact
GSM module
800 / 900 / 1800 / 1900 MHz
Set up
Table base and wall bracket included
testo Saveris: Automated Stationary Data Logging System
with real-time alarm function & Transport Extension for mobile applications
This data monitoring system from testo offers a highly professional measurement and documentation solution for many different areas of applications. Saveris is an
automated plug & play temperature and humidity recording system
using
wireless and/or Ethernet
as communications medium. For other parameters a 4... 20mA logger is available. Saveris is designed to continuously record, document and alarm (relay, sms, email) on exceeded limit values.
(click on the product image below for more information & to request a quote)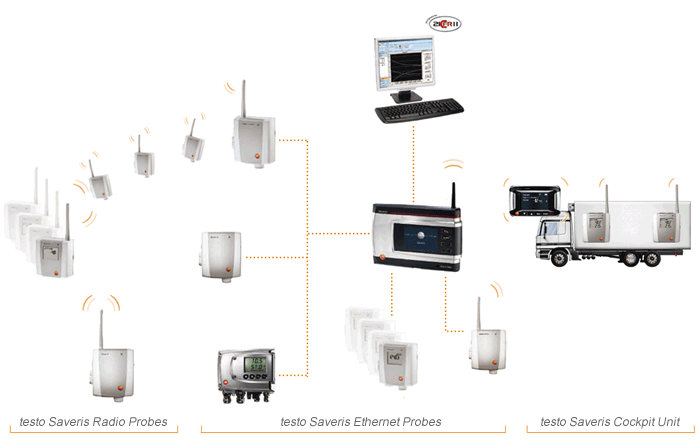 In addition to the existing measurement principle for stationary applications, the system can be extended for monitoring of humidity and temperature during transport of goods such as foodstuffs or pharmaceuticals.
During transport, probes transfer all measurement values and alarms wirelessly to a cockpit unit which is situated in the driver's cabin and which shows all relevant information in the display. Simultaneously, an infrared printer allows the printout of the measurement values at the site of the handover of goods. As soon as the probes come within the range of the logging system, all measurement values are automatically and centrally stored in a database.
The new Saveris software provides many additional functions. The tour management with calendar function, for example, provides highest flexibility in the planning of different measurement tasks.
This means the Saveris mobile data logging system guarantees the uninterrupted monitoring and control of different processes – from production and storage, via transport, up to delivery.
testo Saveris: Measure. Document. Issue alarms.
Monitoring and limit value alarms for temperature and humidity data:
in production in the food sector:
production, quality assurance and storage
in the pharmaceutical industry:
research & development, laboratories & hosipitals, pharmacies
for building climate
Fast and easy installation. Data transfer by radio. Immediate alarm when limit values are exceeded: On site at a distance and by software pop-up, email or SMS. Automated documentation: Choice of wireless or Ethernet probes; unlimited possibilities for combination and extension.
Below is a list of tags that have been applied to this product. Clicking on a tag will display a list of all products with that tag applied.