HSSD - Silicone Side Drum Heater
Stock Code:
SKU: product options
The ideal solution for heating products contained in steel drums:
Applying heat evenly to the product eliminates hot spots thus preventing damage to more sensitive materials such as sugars and glucose.
Circumference: 125/ 180mm - 800/ 1665mm
Thermostat limit: 120ºC
Nominal Power (240v): 300-1500W
Notes:
Rating: 110 or 230 Volts Temp. Control: 0 to 120°C
Effective and simple the silicone side heater gives exceptional performance incorporating a 0-120°C capillary thermostat or 0-180°C electronic thermostat that delivers precise and even heating from accurately positioned PTFE coated, multi-stranded resistance wires.
These wires are laid widthways throughout the heater giving superior flexibility while negating the physical stress caused by thermal expansion during operation. A simple fixing arrangement via a hook and spring provides swift and easy installation.

Advantages of HSSD Container Heaters
The silicone side heater reduces the viscosity of materials such as soaps, fats, foodstuffs, varnishes and chemicals allowing them to be pumped or poured with ease.
Silicon Rubber Insulation
Class II Double Insulation
?IP40 Protection
0 to 180°C Electronic Thermostat
High Temperature Tolerance
Standard Sizes; 25L, 50L, 105L - and 200L
Simple Spring and Catch Assembly
2 Meter Power Cable
Moisture and Chemical Resistant
Power rating: 230Vac 110Vac on request
Temperature Control: 0-120°C or 0-180°C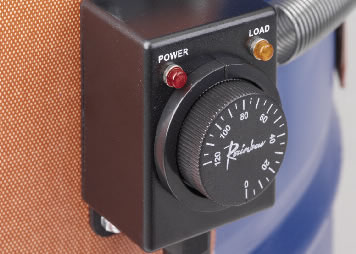 Below is a list of tags that have been applied to this product. Clicking on a tag will display a list of all products with that tag applied.