Thermon TraceNet TCM 18: Electronic Control & Monitoring
Stock Code:
SKU: product options
8-circuit microprocessor-based temperature control and monitoring module
developed specifically for heat tracing systems
Process sensing or ambient proportional control
User-Interface: Provides circuit information and programming capability through the LCD digital display and a dedicated touchpad on the front of each module.
Communication network options: 2x RS485 ports (Modbus ASCII or RTU protocol.)
Applications for Thermon TraceNet TCM18 Control & Monitoring System
Control and monitoring systems play an essential role in heat tracing applications which range from freeze protecting water lines to maintaining critical process temperatures.

Advancements in Thermon's TCM18 microprocessor have made electronic control and monitoring units both cost effective and reliable. Electronic control and monitoring systems ensure accurate temperature measurements, conserve energy and extend system life.
A versatile electric heat tracing control and monitoring network is key to reducing operating cost in plants.
The TCM18 functions as the user interface for a TraceNet TCM18 control panel network of heat tracing control modules. The TCM18 allows the operator to access operating control parameters and operating conditions throughout the heat tracing system network.
Thermon Solutions for Heat Tracing Control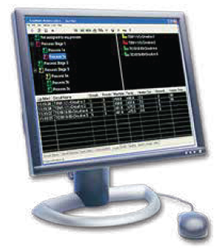 The new TraceNet TCM18 is an extension of Thermon's proven control and monitoring systems (TraceNet, TC1818, TC202, TC201, TC101, and ECM). Each of these systems offer design simplicity and versatility. The components have been designed for easy installation, maintenance, and system expansion over the life of each system.
The controller can be located in the field, reducing field wiring while providing efficient energy management and lower operating
costs. Communications to each of these controllers can interface through serial, Ethernet, fiber optic, or wireless connection back to the plant centralized control center and/or TraceView Network Explorer (TVNE) which is specifically developed for use with electrical trace heating systems.
TVNE is a Supervisory Control and Data Acquisition (SCADA) package developed specifically for interfacing with Thermon controllers. TraceView Network Explorer can be operated on a PC for Ethernet connections and can communicate with up to 4096 controllers over 32 channels, providing up to 15,000 heat trace circuits to be monitored within the same network.
Lower Operating Costs
TCM18 controllers sense ambient temperature and pulse power to the heat trace circuits proportionally.
100% power is applied at the minimum ambient temperature, and each heater is fully "off" at the desired maintain temperature.
Ambient Proportional Control (APC) saves energy compared to conventional ambient proportional control.



| | |
| --- | --- |
| Features | Benefits |
| One (1) or Two (2) RTD Temperature Sensors per Circuit Control Output | Field mount up to 36 RTD sensors for 18 heating circuits, or use Ambient Control and APC (Ambient Proportional Control) with a common RTD for the entire module. |
| Ground/ Earth Leakage Equipment Protection | Routinely "self-test" circuits for leakage. Fast response times for alarms and trips to meet code requirements without expensive EPD - type breakers! |
| Distributed Heat Trace Control | Locate an etire TCM18 system (including electrical circuit breakers) inside hazardous areas. Reduced power wiring and lower overall installed costs! |
| APC Control method for energy savings | APC (Ambient Proportional Control) uses a common RTD for all APC Circuits while maintaining line-sensing temperature monitoring. |
| Large 4-line LCD Display with clear and concise messages | Alarm & control information presented without complex or confusing codes to determine the status of each heater. |
| High density heat trace panels for control & monitoring | A single TCM18 panel can be pre-wired, complete with power distribution for up to 72 heat trace circuits with up to 144 RTD inputs. |
| Easy to use keypad | Programming set-points for control and alarm is very clear and matches the descriptive information on the LCD display. |
| Designed for environmental extremes | Operate in ambient temperatures down to -40°C and as high as +60°C - from the Arctic to Africa! |
| Isolated dual communication ports for remote communications | Allow separate alarm & trip set-points for each circuit |
Thermon
TraceNet TCM 18:
Control System & Monitoring Overview

Thermon
Electric Heat Tracing
Installation Procedures
Below is a list of tags that have been applied to this product. Clicking on a tag will display a list of all products with that tag applied.