Thermon FP Foundation Heating: Constant Watt Cable
Stock Code:
SKU: product options
A low temperature parallel resistance constant watt heat tracing cable
Designed to provide frost heave protection of cryogenic storage vessels
Cut-to-length parallel circuitry for field fabrication
Fibreglass overlay
Nominal watt density: 16-33 W/m
Maximum Operating Voltage: 690 VAC
Certifications/ Approval:

For a detailled quotation, please specify required W/m & quantity in metres, below.
Applications for Thermon FP parallel, Constant Watt Foundation Heating Cable
Thermon FP parallel resistance constant watt heating cables are designed to provide frost heave protection of cryogenic storage vessels.
With cut-to-length parallel circuitry, FP cables can be field fabricated, eliminating the need for specific circuit lengths to be provided for the application.
FP cable construction, with its unique fiberglass overlay, provides the needed cyclic reliability for foundation heating not found in other cables of this type. The fluoropolymer overjacket provides corrosion resistance, durability for installation in conduit, and lowers the friction factor for pulling. Because FP cables are not subject to the inrush current associated with self-regulating heating cables, the need for over sizing power distribution equipment is eliminated.
FP cables are certified for use in ordinary (nonclassified) areas and in potentially explosive atmospheres in accordance with the ATEX Directive and the IEC Ex Scheme.
Certifications/ Approvals
II 2 G Ex e II T3 to T6, II 2 D Ex tD A21 IP66/IP67
T200°C to T85°C FM 07ATEX0016
International Electrotechnical Commission
IEC Certification Scheme for Explosive Atmospheres
FMG 06.0008
FM Approvals
Ordinary and Hazardous (Classified) Locations
Underwriters Laboratories Inc.
Hazardous (Classified) Locations
Thermon FP Foundation Heating Cable has additional hazardous area approvals including:
• CCE/CMRS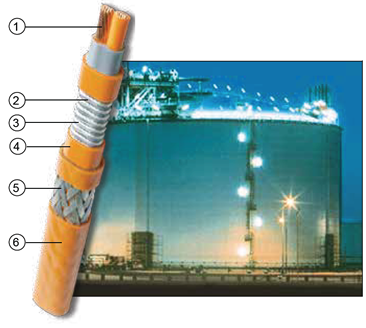 Nickel-plated copper bus wires 3.3 mm²
Nichrome heating element
Fiberglass overlay
Fluoropolymer dielectric insulation
Fluoropolymer dielectric Insulation.
Fluoropolymer overjacket
Ratings
Nominal watt density: 16-33 W/m
Maximum operating voltage¹: 690 Vac
Minimum installation temperature: -60°C
Minimum bend radius
@ -15°C: 10 mm
@ -60°C: 19 mm
Pull strength: 500N
Friction coefficient: 0.25-0.35
Weight: 0.181 kg/m
Notes:
| | |
| --- | --- |
| ¹ | The 690 Vac maximum operating voltage applies to IEC Ex only. Max operating voltage for all other certifications is 575 Vac. |
Conventional Foundation Heating System

Power Output¹

The rated power output of FP cables for voltages typically used in foundation heating is shown in the Table below. The heating zone length is the distance between bus wire connections.

Product
Type
Operating
Voltage
Power
Output
W/m
Zone
Length
cm
FP 8-2
230
24
102
FP 8-4
400
18
152
FP 10-2
230
30
76
FP 10-4
400
23
137

Circuit Breaker Sizing and Circuit Length

Maximum current draws based on start-up temperatures are shown below.

Circuit breaker sizing should be based on local regulations. Ground-fault protection of equipment should be provided for each branch circuit supplying electric heating equipment.

Product
Type
Operating
Voltage
Max.
Circuit Length
m
Current
Draw
A/m
FP 8-2
230
185
0.115
FP 8-4
400
350
0.050
FP 10-2
230
155
0.132
FP 10-4
400
310
0.058

Notes:

| | |
| --- | --- |
| ¹ | Circuit length is dependent on capacity of the circuit breaker. Contact us for design assistance. |

Power & End Termination Kit

FHT1-F-10 contains components to fabricate 10 power connections and 10 end terminations for FP foundation heating cable. (Components for a single circuit shown.)

Kit includes:

(10) Ring terminals
(10) ET End caps
(10) TBX Power connection boots
(10) 3'' (76 mm) Polyolefin shrink tubes
(10) 4-3/4'' (121 mm) Polyolefin shrink tubes
(1) Rolls of Teflon® tape
(3) Rolls of mastic tape
(10) RTV silicone tubes

Temperature Control

From both energy saving and operational standpoints, the heating system should include an effective and versatile temperature control system. Contact us for recommendations.
Below is a list of tags that have been applied to this product. Clicking on a tag will display a list of all products with that tag applied.