Thermon T-3: Heat Transfer Compound, water based, 371°C
Stock Code:
SKU: product options
Standard heat transfer compound that hardens when cured, also used with ChannelTrace system TFK.
Maximum Maintenance Temperature: 700°F / 371°C
Advantages:
Water-soluble for easy cleanup
Increased heat transfer (3-5 times better than bare tracers)
Reduced number of tracers and steam traps required
Reduced installation time and elimination of waste
Requires no special curing procedure for tracing under TKF channels
T-3 heat transfer compound
creates an efficient thermal bond between a steam or electric heater and process pipes or equipment. A single "Thermonized
TM
"steam tracer utilizing Thermon's heat transfer compound is more cost effective than a contoured clamp-on jacket and has the equivalent performance of three or more bare tracers.
T-3 is typically utilized for
applications with maximum exposure temperatures of 700°F (371°C)
.
To minimize waste and speed installation, use Thermon's ChannelTrace
TM
system featuring TFK channels. The ChannelTrace system provides protection prior to installation of thermal insulation and requires no special curing procedure for the T-3 heat transfer compound under the TFK channel.
Typical installes Cross section (ChannelTrace with TKF channel)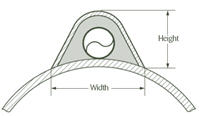 Typical steam tracing system using T-3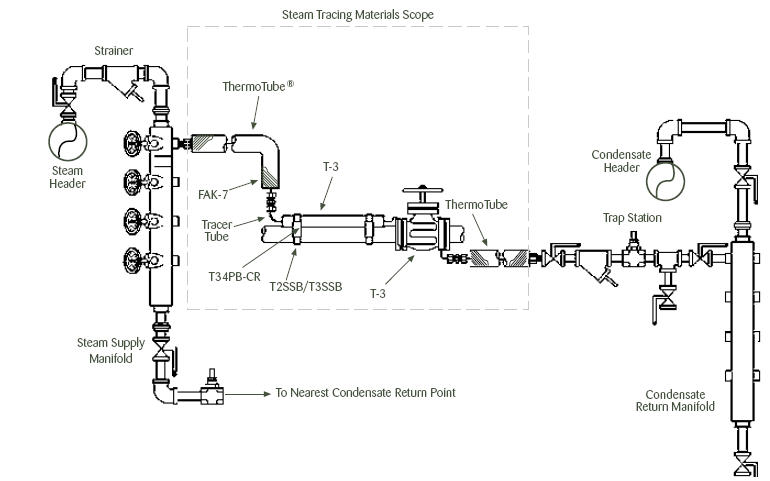 Standard sizes
1-gallon (3.79-liter) pail
2-gallon (7.58-liter) pail
5-gallon (18.93-liter) can

Maximum exposure temperature
700°F (371°C)
Minimum exposure temperature
-320°F (-196°C)
Minimum installation temperature
32°F (0°C)
Heat transfer coefficient, U
tracer to pipe wall
20-40 Btu/hr•°F•ft2 (114-227 w/m2•°C)
Nominal electrical resistivity
0.34 ohms-inch (0.86 ohms-cm)
Shelf life (unopened)
1 year
Nominal bond shear
150 lbs/in2 (1,034 kPa )
Water-soluble
Yes
Below is a list of tags that have been applied to this product. Clicking on a tag will display a list of all products with that tag applied.