Thermon SafeTrace BTS: Steam Tracer
Stock Code:
SKU: product options
SafeTrace BTS is a metallic tracer tube covered with a special high temperature polymer jacket.

Benefits:

Significantly reduces risk of burns
Superior corrosion resistance to most acids and alkalis
Lower installed cost—long length coils reduce the number of tube fittings and lower maintenance costs
Simple tape-on installation
Quick delivery
Free design assistance




Construction:

Copper or Stainless Steel Tube
Safety Yellow Polymer Jacket
Notes:
* Copper tubing meets ASTM Std B68-B75. Stainless steel tubing meets ASTM Std A269. **All tracer tubes are available in 0.049" wall thickness; contact Thermon.
The SafeTrace BTS jacket provides a measure of personnel burn protection without sacrificing thermal performance when compared to bare metal tube tracers installed on a pipe.
SafeTrace BTS tracers utilize a safety yellow identification jacket to signify materials inherently dangerous such as steam per ASME/ANSI A13.1-1996.
SafeTrace BTS is supplied in long length coils and may be installed anywhere bare tracing is specified.
Typical Steam Tracing System using SafeTrace BTS: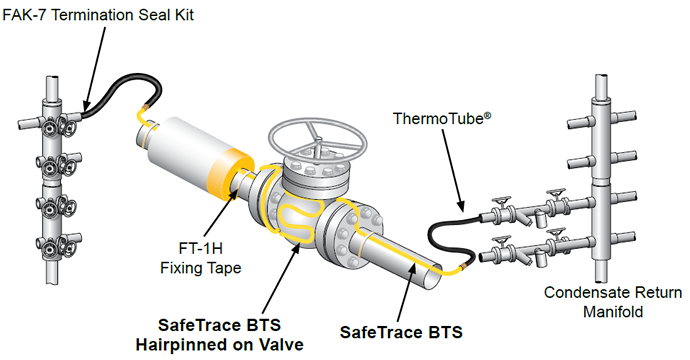 Related Materials
Connections between the steam and condensate headers and the SafeTrace BTS may be accomplished with ThermoTube preinsulated tubing. ThermoTube is available in a variety of configurations to meet the requirements of most applications. For information on ThermoTube preinsulated tubing, refer to our related product section.
Available tube diameters

3/8" & 1/2"
and 10 mm & 12 mm
Available tube materials
copper & stainless steel
Typical pipe temperature range
38°C to 121°C
Max. exposure temperature
215°C
Min. installation temperature
-40°C
Max. recommended steam pressure
17 bar
Below is a list of tags that have been applied to this product. Clicking on a tag will display a list of all products with that tag applied.