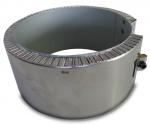 Thermon: EcoBand Insulation
The EcoBand is a specialized insulating blanket that allows maximum insulation and minimal energy consumption.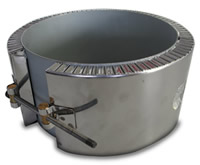 It can be made to suit any type of band heater with at least a 35 mm clearance around the actual band.
It can then either be retrofitted on an existing band heater, or be included in combination with a band heater.


Specify your requirements & send us an enquiry below.
Safer working environment.
By reducing the outside temperature of the band heater by 50-60% it eases maintenance duties around the machine and creates a cooler environment for the worker
.
Improved start-up time.
Energy that was lost due to convection is now used to heat the desired application. Higher concentration of heat available for heating the targeted source thus reducing the start-up time.

Increased service-life.
By reducing the band heater's losses, the efficiency is increased and the work-load is reduced therefore prolonging the life-span of the band heater.

Reduced energy consumption. Increased efficiency results in a decrease in energy consumption.
(15 - 25% reduction in kW/Hr usage)
Application example: Heating Elements + Control Components on Plastic Blow Moulding Machines

The purpose of a temperature control loop is to maintain the process temperature accurately at a determined level. A control loop typically consists of

All parts in the control loop are essential and need to be selected, installed and set up correctly.

We supply both replacement components as well as engineered turnkey solutions to match your specific requirements.
For more information and to get a quote for the components illustrated in this control loop, please follow the links on top of the product images.
Below is a list of tags that have been applied to this product. Clicking on a tag will display a list of all products with that tag applied.