Rod Elements UHR (custom-made)
Stock Code:
SKU: product options
Rod elements are widely used in industry for convection heating, conduction heating and also for radiation heating.
Rod elements are versatile because they can be bent into any shape, operate at high temperatures (up to 650°C) and can be immersed into liquids. The robust metal sheathed construction ensures safety (electrical insulation) and protection against moisture and dirt.
Applications:
Duct heaters (air conditioning)
Hot-air systems
Convection ovens
Drying sheds
Shrink tunnels
Roasting of food (meat, nuts…)
Smoking of food
Curing of paint, ink or varnishes
Defrosting
Sealing bars
Tools and dies
Melting
The rod element consists of a heating coil, imbedded in compacted MgO-powder and protected by an outer metal sheath. An unheated zone on either end prevents overheating of the termination and the exposed part of the rod.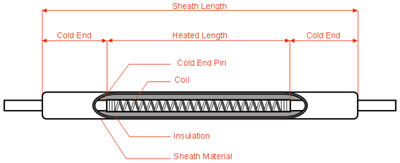 Below is a list of tags that have been applied to this product. Clicking on a tag will display a list of all products with that tag applied.