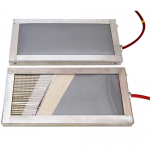 Fly Ash Hopper Heaters
Stock Code:
SKU: Hopper Heaters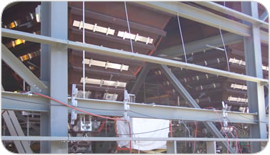 Fly ash hoppers on electrostatic precipitators experience pluggage problems due to flue gas condensation. Evacuation is made easier if the ash is hot.
The sulphurs in the coal carried over with the fly ash combine with moisture to form sulphuric acid, which attacks the hopper walls from the inside. Poor heating systems lead to hoppers that are paper thin and mechanically suspect. Replacing hoppers is very costly.
Our hopper heaters are designed to keep the ash dry and free flowing.

Rectangular, square or trapezoidal designs available. Please specify your requirements below.
The one-piece design embodies the heating strip, thermal insulation and pressure backing.
All series connections are done in the junction box, making it easy to do troubleshooting.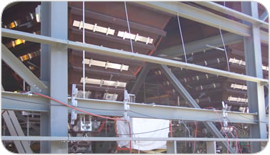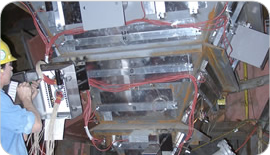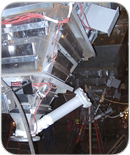 Design

Aluminium mounting pan
Rigid aluminium angle frame
Moistureproof glass cloth outher layer
Multi-layer electrical insulation
Flat foil heating element
Waterproof cold lead
Cushion-like heater face for intimate heater to hopper contact
Thermal insualtion
Individual hopper heater modules form part of an overall hopper heating ystem. When ordering spares or replacements,
the following should be specified:
heater type
length
width
watts
volts
lead exit point
lead length
whether conduit connector is required
When trapezoidal modules are needed, a sketch of the heater should be provided.
Features
Robust, flexible, cushion like heater face that provides maximum heat transfer to the hopper surface - even when the hopper surface is irregular.
Low watt density design with flat foil heating elements for efficient heat transfer, low operating temperatures and
increased heater life.
Multiple parallel path circuitry design for increased
heater reliability and increased design flexibility.
Custom designing allows for heating systems to be used on voltages up to 600 volts with minimal series connections
Lightweight, easily handled unit that simplifies installation and minimizes installation costs.
Protection of the heating element from vibration is achieved with a cushion layer of insulation that also directs the flow of heat from the module to the surface being heated.
Ratings
Maximum Watt density: 3230W/sq meter
Maximum maintenance temperature: 315°C
Maximum continuous exposure temperature (power off): 454°C
Below is a list of tags that have been applied to this product. Clicking on a tag will display a list of all products with that tag applied.