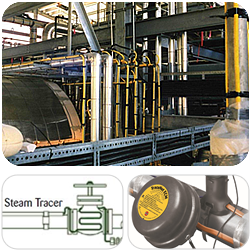 This knowledge piece discusses the evolvement of Heat Tracing technologies (both electrical and steam) and the role that modern heat trace systems and components can play in energy savings.
Process heating accounts for about 36% of the total energy used in industrial manufacturing applications. Particularly, as energy costs continue to rise, industrial plants need to find effective ways to reduce the energy used for process heating.
This Case Study is a feature article in the 2015 Energy Efficiency handbook by Crown Publications, South Africa.
It is estimated that anywhere up to 85% of the energy supplied to industrial process heating equipment is actually used for heating - the rest being lost due to inefficiencies such as heat losses.
Effective heat tracing systems & control methods can assist greatly in minimising heat losses.
When viewed from the perspective of how many meters of heat tracing exists in a typical refinery or chemical complex, the potential for reducing energy consumption and hydrocarbon pollutants can be significant.
Designing efficient heat tracing systems can:
Significantly reduce energy losses by selecting the best tracer option and insulation
Lower the generation of hydrocarbon pollutants
Improve touch safety and reduce OSHA recordable burns
Lower capital and maintenance costs by optimising circuit lengths and associated equipment
Minimize thermal expansion in the piping network
Designing & intalling efficient heat trace systems with optimal control can help reduce energy consumption, significanty.

Download the full case study
& feel free to share your comments below.
List of content
What is the purpose of heat tracing?
External heating to pipes, storage tanks, vessels & instrumentation for the purpose of process temperature maintenance and/ or freeze protection.
Heat tracing methods - the history

Which heat tracing technologies are used today?
- Steam tracing
- Heat transfer compounds
- Electrical heat tracing
- Heat trace control
Conclusion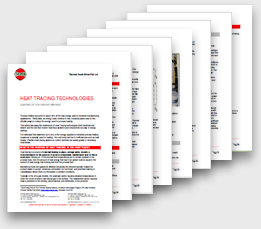 Thermon SA uniquely offers both electrical & steam tracing solutions. It has been Thermon's mission to enhance our customers' process operations by providing innovative and reliable heat tracing solutions at the lowest total cost of ownership.

submitted: