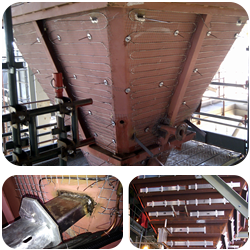 A typical application for surface heating is on Hoppers.
Reliable and effective hopper heating systems play an important role in the removal of flyash from precipitators and baghouse hoppers.
Many designs and operating procedures have been used to minimise or eliminate hopper pluggage caused by compaction, agglomeration and solidification. Earlier designs were based on solving the compaction problem only by means of poke tubes and mechanical vibrators. Fluidizing systems on the other hand tend to require significant maintenance.
Hopper heating was recognised as the most practical method to prevent agglomeration and solidification.
Thermon offers various hopper heating solutions
MI cables on wire mesh
A method perhaps most traditionally used consists of mineral insulated heating cables (MI) fastened to a wire mesh. Because MI cables are silver soldered and waterproof they are a great choice in "gut" tracing applications. This method of heating a hopper has the advantage that higher temperatures can be reached. The disadvantage is that there is a possibility that if not installed properly, air gaps can form, resulting in poor transfer of heat.
There is also the possibility for the central
copper heating wire to shift under vibrations
. The central heating wire once touching the outer protective sheath could cause localised heating and eventually failure of the element.
Benefits MIQ heating cable on wire mesh
A constant Watt heat tracing cable up to 500°C, designed for high exposure temperatures and/or high watt density applications. Can be installed on a wire mesh to function as a hopper heater.
Typical applications are found in the chemical- and petrochemical industries in applications where steam purging occurs.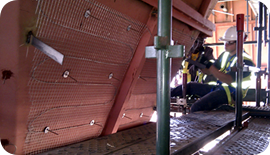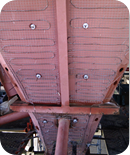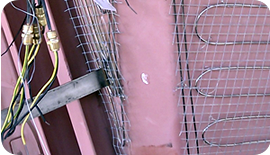 Alloy 825 for exceptional resistance to stress corrosion in chloride, acid, salt and alkaline environments.
High heating power, suitable up to 500°C (Power on)
Can be installed at temperatures to -60°C
Hopper Heating Panels
An alternative method consists of rugged modular heaters. Instead of resistance wire these contain a heating element stamped from a high temperature alloy, Inconel 600, providing multiple paths, eliminating series wire burnout which is so typical for conventional systems.
Our Hopper Heater Panels have been designed to withstand harsh environments over 20 plus years of operating life of the system.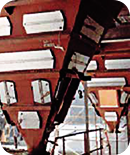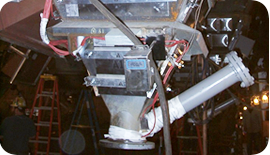 Summary of benefits of panel-designed hopper heaters
| | |
| --- | --- |
| Features | Benefits |
| Direct attachment to Hopper | Efficient heat transfer |
| Low Watts Density (2300-4650 W/m2) | Prevents high temp cycling failures |
| High Temp rating | Extended service life |
| Robust Aluminium Casing | Withstands harsh working environment |
| Flexible front cushion heater | Accommodates irregular surfaces |
| Designed to withstand vibration and impact | Long life: 20-30 years in industrial environment |
| Multiple parallel path circuitry design | Reliability and flexibility |
| Low maintenance cost | Saving on operating expenditure |
submitted: