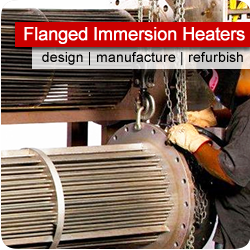 Ensure the right process temperatures are attained
& that your production operates reliably and optimally, independant of climatic temperature fluctuations
Insufficient heat to a medium, such as water or thermic oil, can result in hampered processes.
Typically in the colder months where ambient temperatures play a role, production facilities are very often affected.
Flanged Heaters
Browse our immersion heating catalogues & add products of interest to your "enquiry list" or
contact us to discuss your requirements.
Using immersion elements from Thermon SA can prevent costly production problems caused by incorrect process temperatures.

Our flanged immersion heaters offer reliability and, with integrated control, will ensure the right temperatures are achieved and/ or maintained.

We offer assessment, repair and refurbishment services.
Our flanged immersion heaters are manufactured according to certified welding principles, and are pressure tested & corrosion resistant: The manufacturing is done according to certified ASME welding procedures.

Flanged Immersion Heaters
Flameproof, Ex-d
Increased Safety, Ex-e
Beat the cold: Boost your production

Overcome cold & hampering ambient conditions - optimise your processes with our industrial surface & immersion heaters + measuring equipment.

Find more info on our selected winter process heating solutions
& contact us for a discussion of your specific requirements.

submitted: