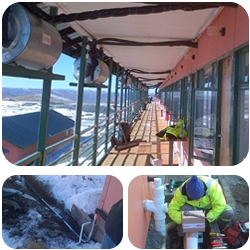 parallel trace heating, heating of pipes



Approximately 1km of electrical heat tracing cables
have successfully been installed at Letseng mine in Lesotho.
Letšeng Diamonds is a diamond mining company situated 3,100 meters above sea level, high in the Maluti Mountains in the Kingdom of Lesotho, southern Africa.
Many of the pipes in the miners' village freeze in winter due to the low temperatures. Some of the lowest recorded temperatures being -20°C.
View products!
Browse our catalogues & add products of interest to your "enquiry list" or
contact us
to discuss your requirements.
Challenge:
The purpose of the installation was to ensure that the specific pipes carrying water to accommodation and communal amenities in the village do not freeze and interrupt water supply and to prevent the pipes from bursting and causing considerable damage to the infrastructure.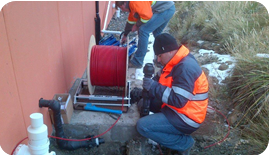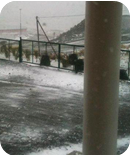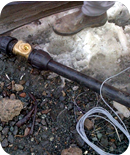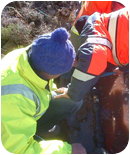 Existing pipework could not be dug up due to frozen soil
Poor access of the remote site on ice covered roads
Icy cold weather conditions made installation of cable very cumbersome.
Solution:
We have undertaken to project manage the electrical trace heating of the water in the reticulation lines at the mine.

Fitment of heating cable on the outside of the pipes was not possible. Unitemp installed heat tracing cable by pulling it through on the inside of the pipes, exiting at suitable junctions.

Inserting the self-regulating heating cable into the pipe (to heat the medium: potable water) rather than winding it around the pipe has the major advantage of pulling the cable through the pipe without needing to dig up the pipework.

Another advantage is that the heating cable is protected from external damage caused by rodents or sharp objects in the soil.


More icy cold conditions occurred days after installation, and none of the pipes installed with trace heating froze up.


Termination of in-pipe heat tracing cable installation in normal atmospheric conditions: Y-piece section installation on pipe allowing access to control box mounted outside.
The project was given the go ahead in the first week in May 2012 and was sucessfully completed 6 weeks later.
Approximate value of project: +/- ZAR 1 million.



Browse our catalogues

& add products of interest to your "enquiry list" or

contact us

to discuss your requirements.

Feel free to comment below & let us know what you think.

submitted: