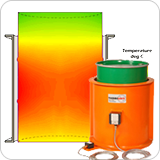 | | | |
| --- | --- | --- |
| | Production facilities benefit from Induction heaters | |

Are you looking for a faster, more energy efficient means
to heat products in drums?

unitemp supplies Thermosafe induction heating solutions to help you achieve optimum viscosity of your product, without compromising on durability & safety.

Contact us
to discuss your requirements:
Mike L. 011 966 9800 (JHB)
Manfred 021 762 8995 (CT)

On-site trials show reduced heating times & higher energy efficiency.
Very low/ no maintenance
Hazardous area certifications - ATEX & IECEx
Automatic operation, no control required
Minimal surface heat losses, hence comfortable working conditions.
Space saving, flexible location, easy handling
IP66 - withstands hose down cleaning

Read how these production plants benefit from using Thermosafe induction heaters:

Maintaining viscosity & temperature of Sorbitol in solution
Precise mixing of lecithin and other additives at optimum viscosity
Blending in fragrances
& melting out fatty acids

Catering for your various surface heating applications, unitemp's range of drum and container heaters have become an industry standard in materials handling.

From flexible heating jackets for various drum capacities and Intermediate Bulk Container (IBC) heaters to induction drum heaters and base heaters, unitemp has the right heating solution for your application:

Contact Michael Lottering (011 966 9800) or Manfred Kriess (021 762 8995) to discuss your container heating requirements or submit your request online!

unitemp has 30 years of in-house experience in addition to expert support from leading international manufacturers whom we are partnering with.