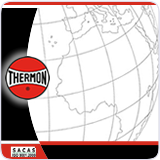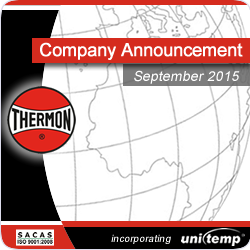 Dear Valued Clients, Suppliers & Partners
RE: General management update
I would like to take this opportunity to introduce myself to you
as the new General Manager of Thermon South Africa.
In March this year, unitemp cc was acquired by global company Thermon.
Since joining the company in January 2015, I have had the responsibility of ensuring a smooth transition takes place into the new wholly owned Thermon subsidiary.
We are now fully operational within the global Thermon organisation and it is our firm belief that the new systems and business process software that we have introduced, will improve the service levels you have become accustomed to as our most valued external asset.
Therefore, on behalf of the management team, I would like to thank all of our long-standing clients, suppliers & business partners for the loyalty and support shown during this transitional period. In addition, we would like to welcome all new clients into the Thermon family.
Our team is looking forward to many more years of serving industry & continued successes
- Shaun Amos, General Manager

Re: New developments, focus and growth


Building on the successes of unitemp, Thermon South Africa aims to strengthen its presence in Southern African markets.
We are committed to maintaining and growing our manufacturing facility and endorsing key agencies (such as Gefran, Hotset & Elstein) that unitemp has successfully built over 30 years and that represents our traditional business.
Thermon SA is well positioned in the food and pharmaceutical industries, with a comprehensive range of instruments and technical services.
Becoming part of the Thermon group has given us the backing of a global organization with access to 60 years' experience in the field of electrical and steam trace heating expertise, as well as enhancing our design & project management capabilities.
As we utilise these strengths we will be looking to grow our business into Southern Africa markets.
- Andrew Semple, Sales & Marketing Manager


RE: Your feedback is important to us

Please rate our service & feel free to send us your comments and/ or concerns.

We are looking forward to hearing from you.