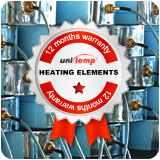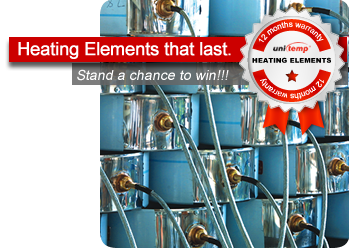 Custom manufactured heating elements
Wide range of standards for the plastics &
general industry
12 months warranty on all manufactured band & box heaters
SOS and Super SOS delivery - if requested
Wide variety & easy re-ordering process:
All bands are clearly labelled with all essential specifications
Our Heater Bands, Flat Elements & Box Heaters are typically used on extruder blowmoulding machines in the plastics Industry.

Other applications include packaging machines and general heating of containers, pipes and flat metal surfaces.
12 months warranty - because unitemp heating elements last longer:
How long has yours been in operation?


The team with the longest operating lifespan of a
unitemp heating element wins a
Infrared Thermometer by testo

- a tough & versatile instrument that measures a host
of parameters for everyday use, valued at R 2 064

+

...a hot breakfast/ lunch
with one of our heating experts.*

Contact us to discuss your industrial heating, measurement & control requirements
or submit your request online!
unitemp has 30 years of in-house experience in addition to expert support from leading international manufacturers whom we are partnering with.