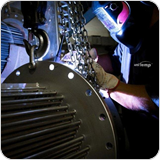 Flanged immersion Heaters:


design | manufacture | refurbish | support

We build & refurbish Flange Heaters to your specification.

Our engineers in Johannesburg & Cape Town design heating solutions,
taking flow of the medium, pressure drop, accumulation of sediments, surface loading of elements and
Ex requirements into consideration.



unitemp refurbishes flange heaters utilising high grade rod elements, ensuring reliable sealing and special moisture proofing of terminal ends:
Wide range of rod diameters, sheath materials, welded or compression mounting available.

The refurbishment in our factory saves time, cost and freight.
Each element is pressure tested and can be certified by an independent authority for compliance with standards.

Our engineers provide on-site assistance to develop immersion heaters that are very versatile in their construction and design. Heating capacity can range from 1kW to a few MW. Find more info & specify your requirements:


Flanged Immersion Heaters
Flameproof, Ex-d
Increased Safety, Ex-e

Our technical sales teams offer a wide range of standard screw-in heaters for applications such as heating of water and heating of light & heavy oils

We also design & manufacture process air- & gas- convection heating systems as well as temperature sensors & control solutions. Our engineers can assist from concept to on-site installations, such as complete heat tracing systems.

Contact Andrew (011 966 9800) or Werner (021 762 8995) to discuss your immersion heating requirements or submit your request online!

unitemp has 30 years of in-house experience in addition to expert support from leading international manufacturers whom we are partnering with.