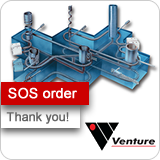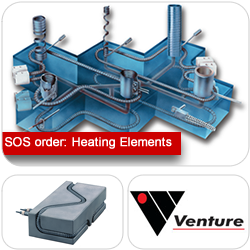 SOS order delivery for specialised heating elements
Our client Venture PE, a leading player in the automotive industry, had a breakdown and urgently required some flexible rod elements in various lengths.
They quickly placed an order with unitemp via our local distributors
ITD in Port Elizabeth late afternoon on Wednesday the 19/3/14
+ the order was placed same day with the original manufacturer Hotset in Germany.
The parcel was dispatched from Germany on Thursday 20/3/14 for Johannesburg and then on to Port Elizabeth.
Considering Friday 21/3/14 being a public holiday, the client was still able to collect the goods timeously on Saturday 22/3/14:
"Dear Michele and Ulf

I would like to take this opportunity to express my sincere thanks to both of you and your team at Unitemp as well as ITD for your help.

In the recent events where we were in trouble with elements on some imported tools and had to make plans to get these tools running so as not to affect our customer, you were there to help us.

The effort from your team even over weekends and public holidays to make up elements and supply them to us literally overnight has been fantastic.

We thank you for this and hope to still build on this relationship in the future.

Regards

Fanie Calitz, General Manager, Venture PE"
Great team work!


We are happy that we could help
& thank Venture PE for entrusting us with this critical service.


Michele Smith, Key account manager

Ulf Hitzeroth, Engineering Manager

Eric Mason
ITD
Port Elizabeth