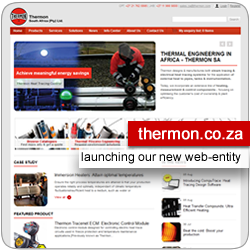 We're launching our new Thermon South Africa website.
With unitemp having been acquired by Thermon Holdings Inc we are very excited to now launch our new entity's "reinforced" surface heating expertise on a dedicated online space:
Please take a look at www.thermon.co.za for all your heat tracing requirements across Africa.
By having a local branded web domain, we feel that we can better communicate our new corporate identity to the sub-Saharan Africa market, adding focus to our core expertise.
You can benefit by receiving the most relevant information in the most convenient way possible.
We have carried many of our popular features over to the thermon.co.za site. Do visit us frequently as we will be launching more information over the next few months.
Let us know how we can help Can't find what you are looking for? We continue to welcome your enquiries on product/ service/ engineering via the same phone numbers & links on both unitemp.com and thermon.co.za.
Your Thermon South Africa team
(incorporating unitemp cc)