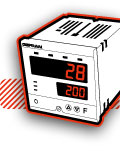 What is it all about?
The focus of the workshop is on better control of heating systems and other processes and to ensure that machines with PID controllers are optimally tuned for best production output.
Outcomes:
Participants will gain insight into the reasons for temperature cycling and the function of each PID parameter in providing smooth and accurate control.
Factors affecting the stability and dynamic behavior of control loops are discussed, including various automatic tuning methods and their pros & cons.
The course is practical and participants will work on jigs with operational control loops.
Who should attend?
Electrical foremen, supervisors, instrumentation technicians.
How do I enroll?
Let us know that you are interested in this course by submitting your request below.
We will then contact you with the latest training course dates, cost & payment details. Should you have a group of people all being interested in this course, we can arrange on-site training.