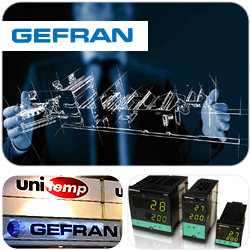 Gefran process automation & sensing:
Dedicated agent + technical support for sub-saharan Africa
We, foremerly unitemp cc, were appointed by GEFRAN, Italy in 1996 as agency for the Southern African region. We supply their comprehensive range of process automation components & offer dedicated technical services + user training.
Gefran designs and produces complete automation systems, sensors & transducers for controlling & managing industrial processes across various industries.
Through constant knowledge exchange & the deployment of Gefran products specifically into the Plastics and Packaging Industry, we continue to assist customers in optimising their technological processes, ensuring consistency and product quality.
Technical service & support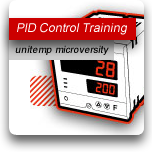 We offer technical workshops for electrical foremen, supervisors, instrumentation technicians across industries to ensure that machines with Gefran components are optimally tuned for best production output.
In addition to the Gefran range of products being sold from our Cape Town & Johannesburg branches, we have authorised resellers in most areas of South Africa.
We empower our extended sales team with on-going training to ensure that professional advice and support is given to our clients.
GEFRAN components for industrial process automation
Our comprehensive GEFRAN product range includes process controllers | indicators | frequency meters/ counters/ timers | pressure- & melt-pressure-sensors | displacement transducers | load/ force transducers | 4 - 20mA/0 - 10V solid state relays, 3 - 32V SSRs, Power SSRs (Wattcor) & drives.
GEFRAN agency for Southern Africa since 1996: the partnership

GEFRAN headquarters in Italy:
Constant knowledge exchange with unitemp
- for deployments across Southern Africa


GEFRAN automation for plastic film extrusion machines & injection moulding processes

2013













2011


unitemp exhibits GEFRAN automation solutions
at the Process Expo in Johannesburg

unitemp rep discussing control applications with client from the plastics & packaging industry


GEFRAN showcase:
Solid State Relays & PID Controllers
for simplification of automation tasks.

2010


GEFRAN principles visit unitemp South Africa:
Flavio Simonini & Massimo Bass (Gefran Italy)
with Dieter Bütow (unitemp Africa)


The unitemp sales consultants in Cape Town receiving user training
& technical insights from the GEFRAN principles.


Integrated GEFRAN solutions by unitemp:
Solid State Relay + Heatsink


Turnkey solutions by unitemp: Control Panels

2008

2006


International supplier conference
at the GEFRAN headquarters in Italy


(Far right): Dieter Bütow (Sales Director unitemp) in discussion with Gefran Italy
on latest automation solutions for the processing industry


GEFRAN pressure sensors:
Supplied by unitemp


GEFRAN Solid State Switches for the food processing industry

2005

2003


PLAST 2003, Milan, Italy:
unitemp joins GEFRAN in exhibiting their dedicated solutions


GEFRAN launches Extruder Control System


Clients discussing the advantages of GEFRAN's control system for plastics extrusion lines


unitemp in the (Plasti)news: Lectures on process optimisation held for the Plastics Institute of Southern Africa (PISA)


Andrew Semple (unitemp specialist for GEFRAN process control) + Vishnu Colan (PISA KZN chairman)


Hans Hitzeroth (General Manager unitemp)
answers questions by plastics manufacturers at the PISA conference on competitive process control.


Hans Hitzeroth & Andrew Semple of unitemp giving
advanced user training for Gefran PID control in Cape Town

2002


Hans Hitzeroth during hands-on Gefran PID Control training: Configuration & fault finding techniques


Gefran 600 temperature controller: Practical configuration training


Instrumentation technicians gaining insights
into temperature cycling & PID parameters

2001


unitemp at the PROCESS Expo, Johannesburg:
GEFRAN process control solutions


GEFRAN 600 demo unit


process instrumentation roadshow, Western Cape


unitemp client year-end function: Demonstration of heat/ cool control loop

1999

1997


GEFRAN temperature control solutions


unitemp: Turnkey temperature control systems to customer specification


Dieter Bütow with the first UniCon: Hotrunner Control System with GEFRAN PID controllers.


unitemp expands its specialist range of industrial heating, temperature sensors & GEFRAN process control

1996

GEFRAN process automation for Africa: Contact us GEFRAN range