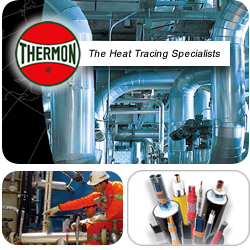 Electric Heat Tracing, Hopper Heaters, Steam Tracing, Heated Tubing Bundles
Thermon holds a unique position as the only international trace heating company offering both steam tracing & electrical heat tracing systems.
Since 1954, Thermon has concentrated on industrial demands for the application of external heat to pipes, tanks & instrumentation.

Today, Thermon's vast knowledge base, the design tools available and the extensive line of trace heating products are focused on
optimizing the customer's cost of ownership & plant efficiency.
Previously known as unitemp, we are proud to have entered a partnership with Thermon Group Holdings Inc.
View Thermon products
Browse our catalogues for all Thermon listings & add products of interest to your "enquiry list" or
contact us
to discuss your requirements.
Steam Tracing
Single insulated copper or stainless steel process tubes
Ideally suited to transport steam, hot or cold liquids, gases or refrigerants
Heat reflective foil wrap & weatherproof outer covering.
Provide efficient thermal connection between the tracer and the heated object
Isolated Steam Tracers (SafeTrace)
Vessel/ Tank Heating Units (HeetSheet)
Efficient thermal connection between tracer & equipment
Options suitable for use in areas of extreme moisture and/or corrosive environments
Pre-formed, hardening or non-hardening compounds
Steam Tracing Solutions for every application
Steam applications range from freeze protection to maintaining temperatures close to that of the steam itself.
"Thermonized" systems also provide predictable operation and maintenance that process plants demand
Process Lines, Utility Piping and Equipment
Instruments and Analyzer Lines
Tank Heating
Maintain different temperatures with one steam pressure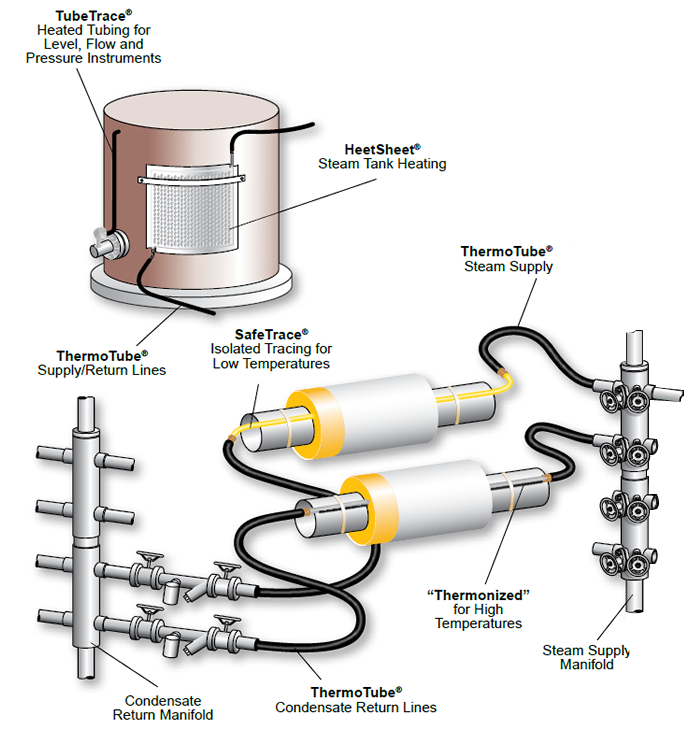 Electrical Heat Tracing
Complete electrical heat tracing systems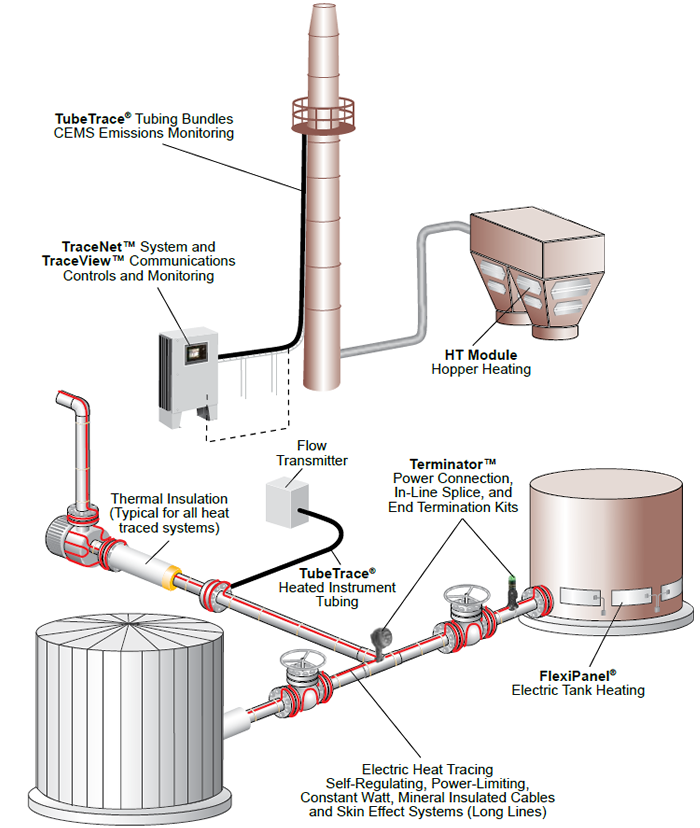 Mission
Thermon's Mission Statement
To enhance our customers' operations
by providing innovative and reliable heat tracing solutions at the lowest total cost of ownership.
Thermon has a solution for all your heat tracing needs
Thermon engineers and specialists located throughout the world ensure that all factors are considered. Thermon can provide detailed design engineering, project management with project drawings and documentation, commissioning and maintenance.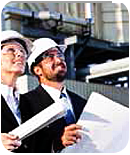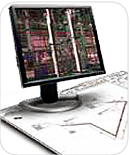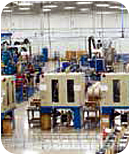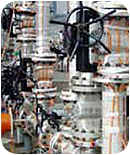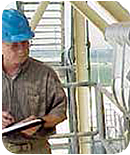 Initial Planning | Design/ Engineering | Project Management | Manufacturing | Comissioning | Maintenance
Media & Download Items: Thermon - The Heat Tracing Specialists
Videos
Thermon Manufacturing:
Fox Business Network Showcase

Thermon Electric Heat Tracing
Installation Procedures

Brochures & Catalogues
Contact us to discuss your requirements View products & Get a Quote
Solutions
Complete Heat Tracing Solutions
Thermon can help you with all aspects of heat tracing for pipes, vessels, instrumentation and other process equipmen.
Together we can ensure that materials selection, circuit layout, installation and operating costs will all be considered for your particular application. From initial planning stages through installation and final commissioning, Thermon provides a total systems approach precisely tailored to meet your heat tracing needs.
Optimised trace heating systems provide lowest cost of ownership
Solely focused on the heat tracing industry since 1954, Thermon's experience will ensure that all factors are considered. Thermon can include detailed design engineering and project management with project drawings, documentation, commissioning, site audits and maintenance.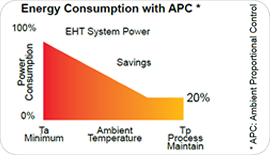 We can help you make informed decisions about the heat tracing options available to you based on materials, installation, maintenance and operating costs.
Energy Conservation = Lower Operating Costs
Heat tracing systems are not often a priority when energy reduction initiatives are being considered. However, when the total heat tracing load in a large system is considered, savings can be significant.
Heat Tracing System Design Tools
Thermon has developed sophisticated, yet easy-to-use software packages that provide detailed design and performance information for electric and steam tracing.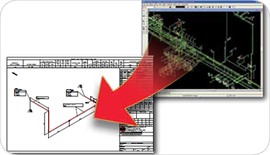 Users of CompuTrace® are able to input design data into the program and obtain detailed system and thermal performance information.
Thermon VISITRACE 3D: Sorts - Views - Designs - Manages - Delivers
Thermon's engineering capabilities also include the VisiTrace 3D Design System. This system utilizes data extracted directly from the customer's 3D model database, automating the heat tracing design form start to finish.
This allows Thermon to reduce client engineering man-hours to design large projects and provide"as-built" drawings in much less time.
Global Presence
Worldwide Approvals
Every product must undergo a multitude of performance tests including stability and long-term reliability. All products are further tested and certified by major approval agencies to verify compliance to international industry standards:


For the continued advancement of heat tracing technology,Thermon actively participates in professional organizations such as:


Global Presence
Thermon engineers and specialists located throughout the world provide design, product selection, installation packages, training and supervision, and commissioning.
These dedicated professionals take projects from conception through completion and review each project's needs to make recommendations based on specific applications and code requirements. Thermon is committed to measurable contributions in health, safety and environmental aspects of our products, services, and operations.
To realize this, all Thermon operations and employees work together to protect our environment and the health and safety of our customers, employees, and neighbors around the world.
Offices Worldwide
SOUTH AFRICA | UNITED STATES | CANADA | MEXICO | NETHERLANDS | UNITED KINGDOM | FRANCE SPAIN | GERMANY | RUSSIA | AUSTRALIA | MALAYSIA | CHINA | INDIA | JAPAN | SOUTH KOREA | BAHRAIN | BRAZIL
unitemp is now a proud member of the Thermon family: Read our partnership announcement.

Contact us to discuss your requirements View products & Get a Quote
Applications
Industrial Applications for Heat Tracing Systems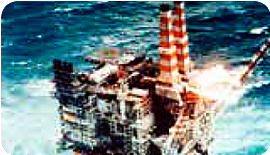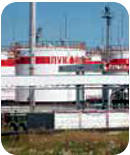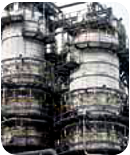 Oil & Gas Industries
Thermon provides heat tracing solutions to the petroleum industry in the upstream, midstream and downstream components of oil and gas production, processing, storage, and distribution.
The upstream sector requires elevated temperatures to move the crude oil and/ or raw natural gas to the surface. The downstream sector requires winterization to the refining, petrochemical, and distribution of the products.
Exploration and production
Oil sands
Gas processing
Heavy oils and synfuels
Petrochemical and chemical
Refining
Storage terminals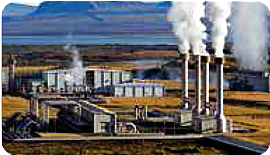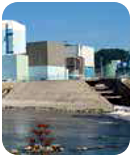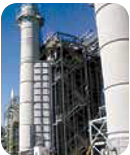 Electrical Power Generation
Thermon is a world leader in providing heat trace solutions in the power generation industry.
Heat tracing needs vary from providing winterization for steam and water lines, to maintaining fly-ash hoppers and "CEMS" sample lines above the flue gas dew point, to providing solutions for critical post accident applications in the nuclear industry.
Equipment must operate reliably in order to produce energy and maintain control of the plant. Thermon expertise and experience is unparalleled.
Coal fired & 'resource recovery' plants
Combined Cycle Cogeneration
Nuclear Power Generation
Solar Thermal Power
Geothermal Power