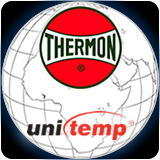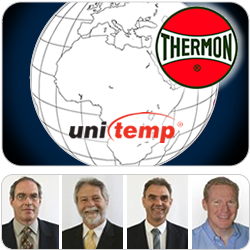 "unitemp has successfully & consistently grown over the last 20 years.

In order to pursue substantial growth opportunities, particularly on larger heating projects in Africa, unitemp has decided to join forces with a leading international company.

We are excited to be partnering with Thermon, and we expect to strengthen our product ranges, expand our services and become a stronger partner to our valued customers."

[Hans Hitzeroth, Chief Executive Officer and Member of unitemp]
Thermon - The heat tracing specialists
Global expansion with unitemp, South Africa
Through its global network, Thermon provides highly engineered thermal solutions, known as heat tracing, for process industries, including energy, chemical processing and power generation. Thermon's products provide an external heat source to pipes, vessels and instruments for the purposes of freeze protection, temperature maintenance, environmental monitoring and surface snow and ice melting. Thermon is headquartered in San Marcos, Texas.
Extending the global footprint: The acquisition agreement
SAN MARCOS, TX -- (Marketwired) -- 12/22/14 -- Thermon Group Holdings, Inc. (NYSE: THR)
("Thermon") announces that one of its wholly-owned subsidiaries has entered into an agreement (the "Transaction") to acquire certain assets and assume certain liabilities of Unitemp cc ("Unitemp"). Thermon expects the Transaction to close in spring 2015.
Unitemp is an ISO 9001:2008-certified designer and supplier of heating, sensing, portable instruments, monitoring and control solutions serving the Sub-Saharan Africa market. Unitemp is headquartered in Cape Town, South Africa, with a branch location in Johannesburg, South Africa. Unitemp generated annual revenue of 90 million South African Rand (approximately $8 million US Dollars at the current exchange rate) in its most recently completed fiscal year. The current Unitemp management team will continue to operate the business following the closing of the Transaction.
"The acquisition of Unitemp represents an attractive opportunity for us to extend our global footprint to include the African continent, enhance our ability to serve our global customers and expand our presence in the Sub-Saharan Africa market. The acquisition is consistent with our strategy of pursuing organic and inorganic growth opportunities within our core business. Unitemp has been a valued channel partner ofThermon for many years and we look forward to welcoming the employees of Unitemp into the Thermon family,"

[Rodney Bingham, President and Chief Executive Officer of Thermon]
Accelerating future growth
The acquisition will be completed by a newly formed entity called Thermon South Africa Pty. Ltd., which is currently in the process of being formally registered in South Africa. The current management team will continue to operate the business following the closing of the acquisition.
The unitemp team would like to thank all clients across Sub-Saharan Africa for their continued support during 2014
& we are looking forward to becoming part of the global Thermon operations in 2015.