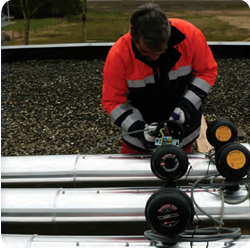 Achieve meaningful energy savings with heat tracing control components.
It has been Thermon's mission to enhance our customers' process operations by providing innovative and reliable heat tracing solutions at the lowest total cost of ownership.
A commonly used conventional ambient sensing ON/ OFF control, directly or acting through a load contactor, fully powers the heat tracing system at all times when the ambient temperature drops below a set point of 5°C. This way the system may typically be energised for 2000-3500 hours per year, depending on a global location.
The required heat energy is actually only needed below freezing point or in case of line sensing for frost protection when the maintained pipe temperature is deviating from the actual pipe temperature (+- only 400-700 hours per year).
Heat Tracing
Browse our electrical heat tracing catalogues & add products of interest to your "enquiry list" or
contact us to discuss your requirements.
As the installed load must be capable of compensating the heat losses at the minimum ambient design temperature, a significant amount of energy is wasted for most of the time.
The different ways of keeping the pipe above 5°C (frost protection) is accomplished by different (physical) devices or different control methods.
Four different types of control are mainly used in the market:
Control by an ambient sensing thermostat
Pipe /line sensing controlled by a mechanical thermostat
Pipe /line sensing controlled by an electronic controller
Controlled by a CPU based control and monitoring system
with Ambient Proportional Control (APC).
Thermon TC ambient sensing control of heat tracing circuits.
Thermon Terminator ZT is ideal for applications requiring tankwall or pipewall sensing.
Thermon TraceNet ECM:Temperature Control, Sensor- & Power Connection
8-circuit control & monitoring system. Process sensing or ambient proportional control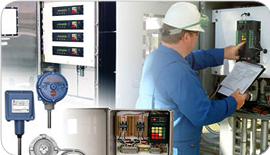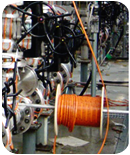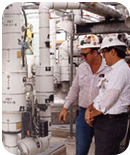 How to choose the right Heat Tracing Control System
The decision for an appropriate control system following process and/or customer requirements is based on temperature control band (accurate switching), power consumption, product investment, system maintenance costs and total cost of ownership.
The reason for Thermon's ability to achieve meaningful energy savings is found in process flow conditions.
The required heat tracing output is normally designed for the 'worst-case' scenario at non-flowing condition.
Conventional ambient sensing thermostats apply full power at a given minimum ambient temperature and switch OFF the power at a higher set point (ambient) temperature, with no regard to the actual energy required on the pipe or heat losses through the insulation.
Featured Control Solution:
Thermon TraceNet ECM, Electronic Control Unit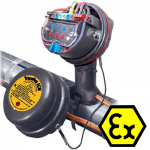 The ECM is an electronic controller with a Pt100 temperature sensor that directly monitors the temperature changes on the pipe surface (hence heat losses). If required, it will automatically switch and provide the required energy to match the heat losses.
Pipe sensing (ECM) rather than ambient air sensing is particularly suited to reduce the power consumption and applies the power to always deliver precisely the amount of heat to prevent the pipe temperature from dropping below the set point.
Each process condition might be different but energy savings using the ECM-Controller (accurate switching in combination with line sensing) has consistently been recorded. The ECM fully optimizes the system's heating requirements, resulting in significant energy savings, considerably reduced operating costs and accumulated power requirements.



This case study also features in the March/ April 2015 issue of the
African Petrochemicals magazine.





submitted: