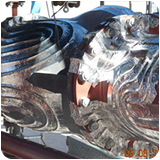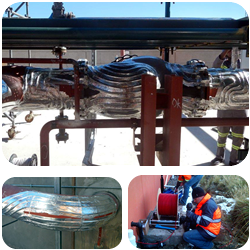 Considerations for design & installation of trace heating systems
Following a number of successful heat tracing projects – the more recent ones being Medupi power station and Letseng Diamond Mine in Lesotho -, we are in a position to offer a complete range of electrical heat tracing solutions for even complex applications and in hazardous environments.
With such a vast range of cable available today, engineers and end-customers should consider some key criteria when selecting the right solution for a heat tracing application.
Cover story and feature article in the 2014-02 publication of
African Petrochemicals magazine.
Serial/ resistance cable
Series resistance cables contain an insulated resistance wire with a voltage applied at the ends.
The power output is a function of the voltage applied and the overall resistance based on Ohms/m rating and circuit length. If the length changes the power output of the cable changes, so these heating cables are not considered "cut to length".
This cable is suitable for large area coverage (eg. big containers), complex three-dimensional shapes (such as valves/ flanges), and high operating temperatures (up to 250°C).
Constant wattage cable
Constant wattage cable consists of parallel conductors feeding power to interlinked heating wire in 1m intervals.
This cable provides a constant power output and a high temperature rating (up to 200°C). It offers a high level of durability, high chemical resistance and an ex rating.
Parallel conductor construction allows cable to be cut to desired length on site and is ideal for heating of pipes.
Self-regulating cable
This heating cable consists of parallel conductors with an interlinking conductive material ("matrix"), providing a watt output which increases as temperature falls and thus referred to as "self-regulating".
It offers a high chemical resistance and can also be cut to desired length. It is ideal for heating
of pipework.
Mineral insulated cable
By far the most rugged and highest rated (up to 600°C) are mineral insulated cables.
They contain a stainless steel outer sheath and are used in both hazardous & non-hazardous areas.
Typical applications include bitumen, asphalt, thermic oil, and petrochemicals. These are serial resistance cables and therefore not considered "cut to length."
Design & installation: non-metallic pipes & vessels
It is important to consider the maximum temperature rating of the pipe or vessel material.
The heater cable operating temperature (sheath temperature) must not exceed the maximum temperature rating of the pipe or vessel. Lower power rated cables will have lower operating temperatures and are therefore the best choice for non-metallic heating applications.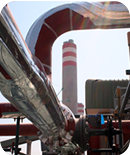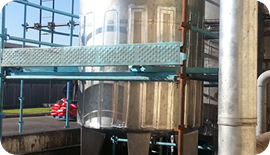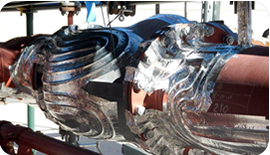 Designs must take into consideration that heat from the tracer does not transfer as easily onto a non-metallic material.
Constant watt heaters will operate at higher temperatures on non-metallic surfaces. Self-regulating (SR) cables will also operate at higher temperatures resulting in a reduction of power output. Heat transfer aids can help reduce these effects.
For example, a good practice is to cover the cable with a 50-75mm wide aluminium tape. This will help reduce sheath temperatures on constant wattage cables and increase power output on SR cables.
Heat loss
Heat loss is, naturally, the rate at which process equipment heat flows to a cooler ambient. The purpose of heat tracing is to replace that heat lost through the thermal insulation in order to maintain a desired temperature difference (ΔT or Delta T).
Pipe support (non-insulated) and valves represent a region of much higher heat loss. This local higher heat loss must be made up with additional heating cable.
Thermal insulation
The function of thermal insulation is to provide protection of personnel against hot surfaces, minimise heat loss and allow the pipe temperature to increase above ambient temperature based on the amount of heat added by the heat tracer, and to conserve energy. The heat losses without thermal insulation are excessive and not practical to compensate for with heat tracing.
While thermal insulations have thermal conductivities that reduce the flow of heat, these vary depending on the type of thermal insulation used. They also have different maximum temperature ratings. Both must be addressed in a heat tracing design.
Control
Electrical heat tracing systems may need control or high temperature protection.
Contrary to popular perception, even self-regulating cable should be controlled for maximum savings. Controlling a heat tracing circuit can be as simple as a mechanical thermostat but very often more sophisticated control and monitoring requirements are necessary.
In any heat tracing project, Thermon South Africa can offer the complete all-round solution.
Contact us to discuss your requirements