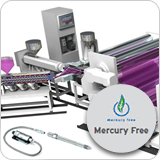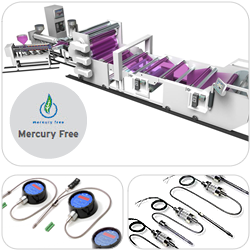 Mercury-Free Melt Pressure Transducers:
For Health Sensitive Areas & HACCP
Gefran melt pressure sensors:
Improve control, reduce downtime, minimise scrap.
Different applications call for different melt pressure transducers:

Check our wide range of measurement equipment offered by Gefran:
fluid-free, sodium-potassium filled, oil-filled & mercury filled sensors for any of your applications.
View products!
Browse our catalogues & add products of interest to your "enquiry list" or
contact us
to discuss your requirements.
For food manufacturing, packaging & pharmaceutical processes that are
HACCP approved, the following 3 mercury-free sensor-types are recommended:

For general purpose:


Flud-Free
(I-Series)

Sodium-Potassium
filled (K-Series)

Oil-Filled
(W-Series)

Mercury filled
(M-Series)
All Gefran melt pressure sensors are entirely stainless steel, & available in 4 versions:

Rigid Rod
Flexible Rod
Flexible with Thermocouple
Exposed tips
Contact Michael (011 966 9800) or Manfred (021 762 8995) to discuss your melt pressure measurement requirements
or submit your request online!
unitemp has over 30 years experience in industrial heating, measurement and control.