Define Instruments TEX-CTR10: Counter, Rate indicator
Stock Code:
SKU: product options
This counter is ideal for indicating totalisation and monitoring rates.
5 buttons
13mm LED display, 6 digits
IP65 dust and splash-proof
Panel mount case - (H x W x D)
48 x 96 x 119.5mm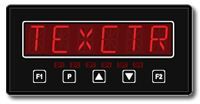 The TEX - CTR10 indicator is the ideal solution for a variety of counting and rate application requirements.
This meter has been designed for ease of use, with intuitive, scrolling text prompts that guide you step-by-step through the setup process.
The front panel includes a 6-digit LED isplay and five front-panel buttons, for simple operator interface. One of the five buttons is user-programmable, so you can customise it as a shortcut to your most frequently used feature.
The TEX - CTR10 is available as an indicator. For more sophisticated applications requiring outputs and/or batching functionality, we recommend the PRO - CTR series.
Input Signal
0-24V DC, 0-30V AC
Sensor types
NPN, PNP, TTL, namur, tacho, pushbutton
Noise filtering
0.2, 2, 20kHz or Off
Excitation
24V DC (50mA max)

Counter

Input frequency
100kHz max
Pulse width
Minimum pulse width must exceed 5?s
Sampling rate
10msec
Rate
Input frequency
10kHz max (100kHz in high-speed mode)
Pulse width
Minimum pulse width must exceed 5?s
Sampling rate
100msec
Resolution
0.01Hz (1Hz in highspeed mode)
Accuracy
0.005%
Temp drift
Typically 2ppm/°C
Below is a list of tags that have been applied to this product. Clicking on a tag will display a list of all products with that tag applied.