Hot Runner Systems
More Information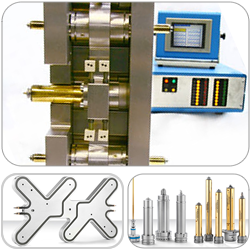 hotrunners for plastics injection moulding



In close co-operation with Thermoplay, a global manufacturer in hotrunner technology, we offer a range consisting of more than
400 types of nozzles
over 80 standard manifolds
flow analysis & control solutions
bi-injection, multi-materials and sequential injection using pneumatic and hydraulic valves also for gas filled products.
We believe we can satisfy every constructive need for hotrunner moulds.
View products!
Browse our catalogues & add products of interest to your "enquiry list" or
contact us
to discuss your requirements.