Manifolds
More Information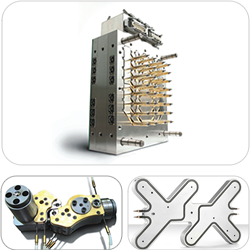 Special manifolds, wired systems and hot halve
The manufacturing dedicated special manifolds, bi-injection multimaterial, sequential injection, with pneumatic or hydraulic valves, allows Thermoplay to meet the requirements in hot mould construction, applied to automotive, packaging, electronics, medical, electrics, aeronautics, micro-mechanics, hobbies, toys, domestics, etc.
Balanced construction to obtain equal pressure to each nozzle
Perfect coupling with the nozzles to gurantee complete sealing
Special inserts (conical plugs) allow multilayer channels and direction changes
Vast choice of types and dimensions
Superior steel quality
Get a quote!
Browse our catalogues & add products of interest to your "enquiry list" or
contact us
to discuss your requirements.
Standard manifolds with 2, 4, 6 and 8 cavities
Thermoplay, in accordance with its experience in manufacturing thousands of manifolds for hot runner systems, has developped a series of manifolds designed to provide reduced costs and quick deliveries.
This series of "standard manifolds" is available for 1, 2, 4, 6 and 8 drop applications.
Over 50 standard manifolds are available that can be used with nozzles of different diameters and the design of these manifolds allows the flexibility of different channel sizes so that either our type "D" nozzles or type "F" nozzles, in the different diameters, can be used.

The manifolds are fitted with cal rod heaters pressed into place to ensure even heating of the manifold and provide long heater life.
Engineered Hot Channels
According to your requirements and in partnership with Thermoplay's design teams, we can supply specialised hot channels with the following characteristics:
Hot channels inside constraining manifolds (hot-half) which can be directly assembled in the printing plate.

Hot channels with electronic and hydraulic wirings, which can be directly assembled in the moulding system, without any further wiring.

Special manifolds including nozzles and accessories (ex. injection bushings), not assembled and without wirings.
Specifications: Hotrunner Manifolds for plastics injection moulding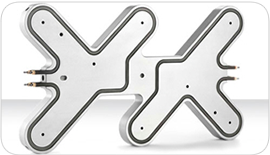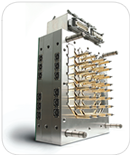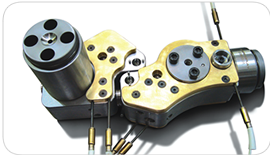 Ceramic connectors are used on the heater leads to provide for the customer easy electrical connections as well as excellent insulation. One or more thermocouples are placed in the manifolds at a position suitable to detect and maintain the correct temperature for the material being processed.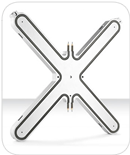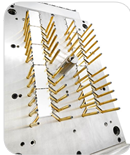 Since all of the dimensions for the manifolds and related accessories are available in our catalogue, mold design is greatly simplified and projects can be designed immediately thereby reducing the time to project completion.
Thermoplay's current line of manifolds is designed to meet customer requirements for "sandwich" moulds, 2 materials or 2 colours, vertical injection for different customer defined applications.
Thickness of the following standards manifolds are executed only on this manifold type. special manifolds are manufactured differently and their thickness varies.
Contact us to discuss your requirements Get a quote


[feedback]