Nozzles for Hot Runner Systems
More Information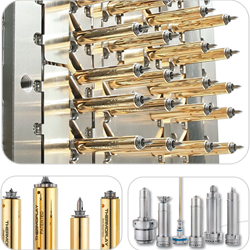 Injection moulding nozzles
Thermoplay's modular components simplify maintenance as parts can be replaced directly in the machine.
Special patented heater
Constant thermal profile
Significant energy savings
Tips in special sintered steel
Optimal thermal conduction
Wear resistant
Different lengths
Open gate/valve gate
View products!
Browse our catalogues & add products of interest to your "enquiry list" or
contact us
to discuss your requirements.
The "D" series injection moulding nozzles have their sealing surface on the shaft of the nozzle.
This acts as a double seal; first the plastic is stopped physically by the sealing surface pressing up against the mould and the second is due to the sealed area being situated away from the heat, causing the molten plastic to freeze.
If the molten plastic should pass the seal there is another sealed area around the nozzle head, reducing the possibility of molten plastic flooding into the manifold cavity.


The "F" series injection moulding nozzles have their sealing surface on the tip of the nozzle.
These tips are easily removable for maintenance purposes. This series also has a unique heating system.
The heating element has been enclosed in a brass sleeve to give even heating throughout the nozzle and minimise radiating heat into the mould.
With this brass element it is also possible to have the cable exit in the middle of the nozzle shaft, making it possible to replace the tip and the heater without taking the mould out the machine.
The "D" and "F" series of hotrunner nozzles have many different lengths, diameters and tip configurations to suit all applications.
For single nozzle applications both series are fitted with a robust head that absorbs the shock loads and continues pressure from the injection unit.

Contact us to discuss your requirements View ranges of nozzles & get a quote


[feedback]
Listing