Hot Runner Control Systems
More Information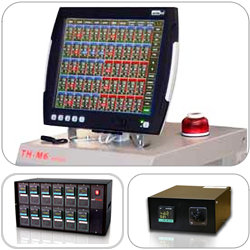 Control systems for the plastics industry




In order to create plastics products of intricate design, injection moulding hotrunner systems need to be carefully controlled to optimise the materials processing.
We have designed our own UniCon specialised modular hotrunner control system based on the Gefran 600 PID controller, making the control of moulds both easy and affordable. Models from 3 to 12 zones per rack are available.
In close co-operation with our principle solutions providers, we can design & configure up to 252-zone control systems for hotrunners.
View products!
Browse our catalogues & add products of interest to your "enquiry list" or
contact us
to discuss your requirements.
Regardless of the number of zones and operator interfaces, Thermoplay's advanced temperature control systems provide the following functions/ key features:
Synchronous increase of temperatures despite the thermal inertia of different zones: delayed start - up of the nozzle zones is avoided.
"Slave" function: each zone can be linked to another with similar thermal behaviour (operator's choice) if a thermocouple is interrupted. This is a valid alternative to manual operation.
Plastic leakage alarm: the controller continuously monitors each zone's absorption and allows immediately intervention if plastic leaks from a nozzle.
Collective modification of all zones: set temperature and all the control and alarms parameters can be simultaneously modified on all the zones. This happens by pressing a panel button.
Immediate and complete diagnostic: the controller identifies and signals the thermocouple failures (breaking an dinverted connection), fuse and heater interruption , solid state relay faults, phase power supply interruption.
Benefits UniCon modular Hotrunner Control Systems:
Self-tuning PID
accurate control to within a degree or two, even on micro hotrunners with very low thermal inertia
Softstart
user programmable, superior exponential algorithm, variable time allows sufficient drying time to lengthen element life
Self-checking
during operation the UniCon600 continuously monitors the vital functions: thermocouples, heating elements, SSR switching devices and cabling
Alarm and fault indication
Temperature alarm configurable per zone. Alarm can be set as Hi, Loor Deviation alarm. Heater-break alarm senses an open circuit condition on the heating element. Relay fault alarm indicating solid state relay failure. Fuse alarm senses a blown ultra rapid fuse condition
Modular
zone modules can be exchanged underpower while the system is running, no downtime
Manual operation
any zone can be switched to manual control should a thermocouple fail, automatic switchover can be pre-programmed
Easy to maintain
controllers, SSRs and fuses are standard devices, easy to obtain, quick to exchange.
Rear extractor fan
provides sufficient cooling under full load operation (6 & 12 station).
Heavy duty connector plugs
are fitted to the rear of the enclosure. The female socket is used for heater element output. the male socket is connected for type J sensor input wiring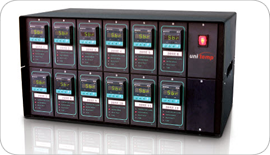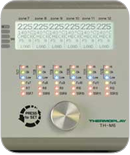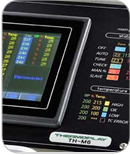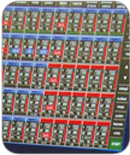 Technical Specifications for Hotrunner Control Systems:
Size
12 zone controller - 565mm w x 350mm d x 300mm h, weight 27kg excl. cable set
6 zone controller - 565mm w x 350mm d x 165mm h, weight 14kg excl. cable set
3 zone controller - 340mm w x 350mm d x 165mm h, weight 10kg excl. cable set
Per Zone
10A, 2.3kW per channel
10A ultra-rapid fusing per channel
25A solid state relay switching each channel
Total rating/power requirements
12 zone: 3-phase, 230V / 25A with neutral (17kW max. combined load)
6 zone: 3-phase, 230V / 20A with neutral (13kW max. combined load)
3 zone: 1-phase, 230V / 16A with neutral (3.5kW max. combined load)
(Racks with higher power ratings or zones with increased power output are available as option)
50mA fusing on the thermocouple sensor input.
Ambient temperature 50°C max
Storage temperature 70°C max, 85%RH non-condensing
Contact us to discuss your requirements View custom products & get a quote


[feedback]