Technical Services
More Information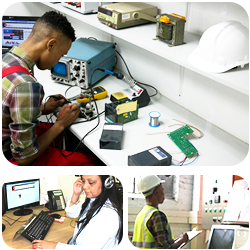 Product support, on-site consultation, (hotrunner) control panel building,
repair service & user-training
We offer specialist advice & technical back-up for our entire product range. This includes configuration, support & repairs of electrical heating systems such as ovens, kilns & curing stations - including control & instrumentation.
Our engineers are available for consultation and custom designs.
Recognizing the need in industry for skills development, we also offer on-demand user training courses.
In addition to these technical services, we provide accredited calibration services for temperature and humidity & validations for other parameters.
Our team is available for assistance with technical set-up, repair & refurbishment of electrical heating systems & maintenance.
Note that free telephonic & email consultation is available for basic questions on our standard range of products whilst in-depth assessments, consultations, repair & configuration might form billable services. Please log your specific service request by following the links below. We will get back to you as soon as possible to discuss your requirements: