Flanged Immersion Heaters
More Information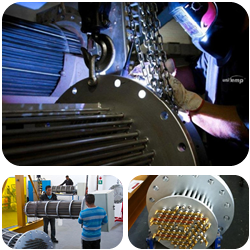 Our industrial heater bundles are engineered to client specification.
We have extensive experience in the manufacture of flanged heaters for:
boilers
heat exchangers
petrochemical application
mining
general industrial use
Special elements are available for
corrosive liquids, highly viscous oils, high pressure or hazardous areas.
Select equipment
Browse our listings of typical flange heating systems for various industrial applications &
specify your design & process requirements. Our thermal engineers will contact you to discuss details..
Typical Applications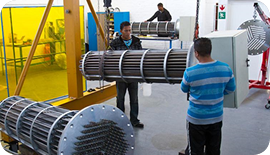 Heating of water
Heating of chemicals
Thermic oil heat exchangers
Heating of gas Anti-frost protection in storage tanks
Ex-classifiedenvironments


Flange Heater Design Considerations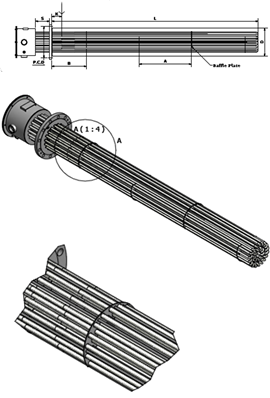 Sheath material (element tube) as well as flange material must be matched to the medium to be heated. Issues with corrosion resistance, chemical stability, temperature stability, etc must be considered.
The rate of heat transfer between element and the medium is important. If heat transfer is too high, the medium might degrade.
Too low a heat transfer can result in a bulky construction.
Degradation of the medium can quite often result in a precipitation of the degraded material onto the element sheath. As this can reduce the rate of heat transfer, the element is put at risk of overheating.
Flow rate of the medium over the elements helps to improve the heat transfer. In such a case flow velocities and flow characteristics are of importance.
Physical sizing of the element bundle in relation to the vessel it is mounted into, must be taken into consideration and balanced against all the other design criteria as mentioned above.
Terminal design needs to consider current/ voltage rating as well as the type of electrical control required. Environmental issues are important criteria, ie. Ex rating, dust and moisture protection.
If the heater is used in a hazardous area, this will require substantial design considerations on the terminal layout and would require specialised certification (EX, ATEX) by third party authorities.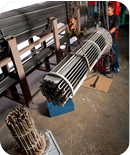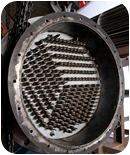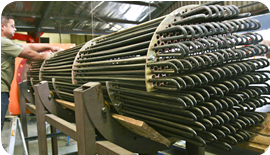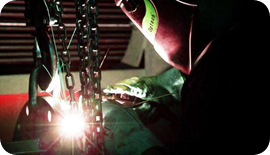 Manufacturing
Certified welding procedures
ASME welding principles
High quality: Weld quality, sealing, system layout,
corrosion resistance
Pressure tested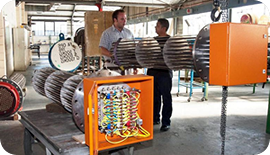 Control & Protection
Multiple heating zones
Temperature protection
Process Requirements
Safety considerations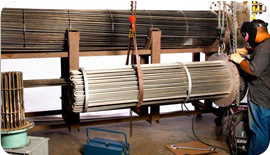 Refurbishment
Technical Service & Support
Engineered to order gallery: Flange Heaters