Electrical Heat Tracing | Heating tapes, cables & control
More Information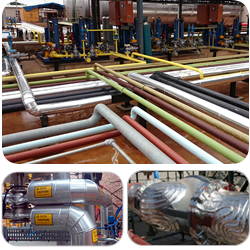 Parallel & serial trace heating cables, control, tank & hopper heaters
APPLICATIONS:
maintain optimum process temperatures
of liquids, vessels, pipes, valves, gutters & instrument panels
freeze protection
e.g. prevent drain pipes & doors in refrigeration plants from freezing up
preventing chemicals from crystallizing or solidifying
maintaining low viscosity for easy pumping
prevent condensation in cabinets and instrument panels
View products
Browse our catalogues & add products of interest to your "enquiry list" or
contact us
to discuss your requirements.
Thermon Heating Cables - Quick Selection Guide
For more information & to request a quote, please click on the product image listed below.
Product
Type
Parallel/
Serie
max operating temp
Power ON (ºC)
max exposure temp
Power OFF (ºC)
W/m @ 10 ºC
Voltage Range (Vac)
Applications

BSX
Self-Regulating
parallel
65
85
9
15
25
32
100 - 277
*process temp maint (low)
*no steam clean

RSX 15-2
Self-Regulating
parallel
65
85
48
100 - 277
*process temp maint (low) * suitable for refrigeration & cold storage *no steam clean

KSX
Self-Regulating
parallel
121
121
48
64
100 - 277
*process temp maint (medium) *no steam clean

HTSX
Self-Regulating
parallel
150
Intermittent: power ON 215, power OFF 250
9
18
27
37
48
64
100 - 277
*process temp maint (medium) *steam clean/purge

VSX
Self-Regulating
parallel
150

Intermittent: power ON 232, power OFF 250

15
32
48
64
100 - 277
*process temp maint (medium - high) *steam clean/purge

HPT
Power-Limiting
parallel
215
260
15
30
45
60
100 - 480
*process temp maint (medium - high) *steam clean/purge

FP
Constant Wattage Polymer
parallel
65
200
8, 16, 33 W/m
120/ 200
*low process temperature maintenance
*no steam clean

TESH
Constant Wattage Polymer
series
260
260
25 max
up to 750
*long line *process temp maintenance

MIQ
Constant Wattage MI
series
500
650
280 *
350 **
650 ***
260 max
300-500
*high temp exposure *high temp maintenance