Trace Heating Accessories
More Information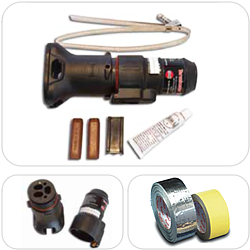 termination kits, cable glands, heat tracing tapes
Easy & safe connection of heat tracing cables
High process temperature ratings
Termination boxes protect cables during assembly
Connection kits function without heating source
The accessories in this section are selected to facilitate easy and safe connection and control of electrical trace heating cable.
Glues, sleeving and materials are matched to the rated process temperature. Termination boxes protect the cables during assembly.
Our connection kits function without heating source.
View Products
Browse our catalogues & add products of interest to your "enquiry list" or
contact us
to discuss your requirements.
Note: This list of heat tracing accessories is not comprehensive and further information can be obtained from our consulting engineers.