Parallel Heating Cables
More Information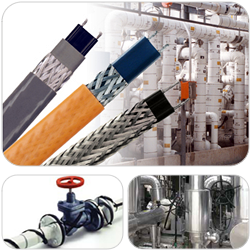 Self-Regulating-, Constant Watt-, Power-Limiting or Foundation Heating Cables
Parallel trace heating cable consists of two parallel conductors (phase, neutral) with a conducting material in between. The conducting material produces even heating power (Watts/m) over the entire length of the cable.

The advantage of parallel heating cables is that they can be cut to any length with the termination being at one end of the cable and is easy to terminate.
For safety reasons it is not recommended to exceed the design wattage.
If used in a more hazardous environment such as the chemical or petrochemical industry, the cables can be lagged with a unique, chemically resistant outer fluorpolymer jacket.
View products
Browse our catalogues & add products of interest to your "enquiry list" or
contact us
to discuss your requirements.
Note:
Apart from the connections, some of these parallel electrical heating cables can be immersed into fluids.
What are Self-Regulating or Power Limiting Heating Cables?
Where resistance of the material increases as the operating temperature rises, a reduction of heating power occurs.
These are termed "self regulating" or power limiting trace heating cables.
Excellent for metallic or non-metallic piping and tanks, our self-regulating heating cables allow for ease of design & installation with applications ranging from freeze protection to process temperature maintenance to foundation heating.
High performance power-limiting heating cables are designed specifically for process temperature maintenance or freeze protection where high temperature maintenance or high temperature exposure is required.
What are Parallel Constant Watt Heat Tracing Cables?
Parallel constant watt heating cables include a continuous series of short, independent heating circuits. Power output is relatively unchanged by variations in circuit length up to several hundred metres.
These cables are designed specifically for freeze protection or process temperature maintenance of pipes, tanks and equipment.
Contact our consulting engineers Select Cables & Get a Quote