Linear Displacement Transducers
More Information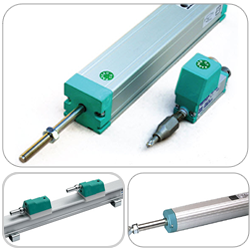 rectilinear transducers, linear transducers
Rectilinear displacement transducers are used to measure the travel of sliding or moving parts.
Typical fields of use are
plastics injection moulding machines as well as pneumatic or hydraulic installations.
View products!
Browse our catalogues & add products of interest to your "enquiry list" or
contact us
to discuss your requirements.
The LT, PC and PK series are cost efficient, based on a cursor sliding along a resistive strip.
The measuring principle is that of a potentiometer.
MK4A are contactless transducers using magnetostriction. The advantages of contactless transducers are wear and tear free operation, a virtually unlimited lifetime, high immunity to dust, dirt and moisture and resistance to vibration or mechanical shock.
Contact us to discuss your requirements
View Products
[feedback]